Well done to our own Keith Burns, who scored highest of the entire group of kickboxers at the AKAI full-contact training camp at Crumlin Boxing Club yesterday (Sunday, 27 June) in the power and fitness tests overseen by Irish high-performance coach Robbie Haugh.
The seven-hour session from 9.30am-4.30pm was attended by all national champions and their respective coaches. National silver and bronze medallists also attended, and the camp was also open to all kickboxers.
Needless to say Rebecca Dillon and Richard Kiely (pictured below along with Black Panther chief instructor Norman Kelly with the AKAI national team in Norway earlier this year) were there.
And, in addition to Keith Burns, Kevin Carey and Abdulla Smew, who are also members of the Black Panther club, took part in the session as well.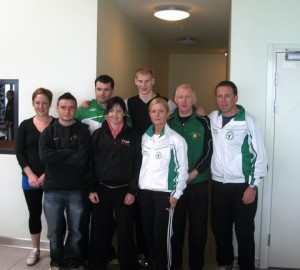 Norman said: "If fairness to Keith, he came out the best of everybody – credit where credit is due. He scored highest of the entire group."
Norman added: "It was a very good day and highly productive. There was good input from everybody who attended, and there was a lot of sparring, too."
The kickboxers were also taken through some basic technique and shown some power stretching, while there was also a talk on preparing and peaking for fights.
Norman added: "Rebecca and Richard showed up very strongly, as you would expect; there were very high levels from both of them."
Attendance at two of these training camps is a requirement in order for kickboxers to qualify to represent Ireland in the WAKO European Championships in Greece from November 22-28.
Again, well done to Keith Burns.