As you know, the first of three national full-contact squad training camps took place at Crumlin Boxing Club on Sunday (27 June), and there are two more scheduled.
The seven-hour-long session was attended by Black Panther's WAKO women's full-contact -52kg World Cup gold medal winner Rebecca Dillon and fellow club members Richard Kiely, who also competed in Rimini from June 4-6, Keith Burns, Kevin Carey and Abdulla Smew.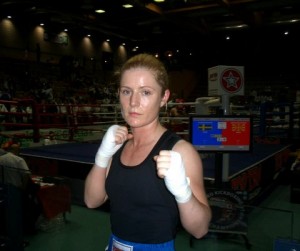 Keith, in fact, as we reported yesterday (Monday, 28 June), scored highest of the entire group of kickboxers at the AKAI-organised training camp in the power and fitness tests under the watchful eye of Irish high-performance coach Robbie Haugh.
In order to qualify to represent Ireland in the WAKO European Championships in Greece from November 22-28, all national champions must attend.
In addition, all silver medalists are advised to attend and all bronze medalists are encouraged to participate in at least two of the three national camps scheduled for this year.  
While the camp is also open to all kickboxers, please consult with Black Panther chief instructor Norman Kelly in terms of determining your suitability for such a step-up in class.
If it interests you but you are in some doubt, ask Norman.
The next two training camps are at Limerick University on July 23-24-25 inclusive and September 3-4-5 inclusive.
Attendance at these camps needs to be booked four weeks in advance and the €65 per-person sharing rate is strictly on a first come, first served basis.
Be advised that any bookings made after this date will be charged at a higher price.