Jimmy Upton's door is always open – whether you're a national champion or not.
Jimmy, the AKAI national full-contact coach, has an open mind when it comes to deciding who gets to wear Ireland's green.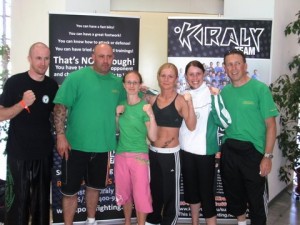 Jimmy (pictured second on the left) told blackpanther.ie: "The number twos and threes in the various divisions are always knocking on the door and my door is always open; it is open to everybody. Everybody has a chance of being selected to represent their country.
"Being the number two or number three does not mean that opportunity isn't there for you; it is. The full-contact training camps [the first of three this year was held at Crumlin Boxing Club on Sunday (27 June)], are a big help. A lot depends, too, on what you do in training.
"Anyone could have a bad night at the nationals and get beaten, but they could have excelled at the various training camps. If you shine in training but don't perform at the nationals, for whatever reason, it doesn't mean that the door is shut on you. You always want to bring the best people away with you [for international competition] that you can. They aren't necessarily the people who win gold, although more often than not they are."
In order to qualify to represent Ireland in the WAKO European Championships in Greece from November 22-28, all national champions must attend at least two of the three full-contact training camps.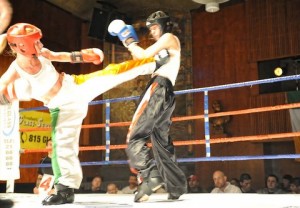 All silver medalists are advised to attend and all bronze medalists are encouraged to attend, too.
The camps are also open to all kickboxers, but you would need to be of a certain standard for sparring purposes, for example.  
Jimmy, meanwhile, was delighted with how well the first of the training camps went on Sunday. 
He added: "I thought it was a real success – it was very good. Everybody got something out of it, even the more experienced people.
"What happens now is that I get the results [of the various fitness tests taken on the day] e-mailed on to me. Everybody was fitness tested, so I can see where they're at and what they need to do to get to where they need to be.
"All in all, it was a very positive session."
Jimmy's words of encouragement to one and all will be a big boost to up-and-coming Black Panther fighters Keith Burns, Kevin Carey and Abdulla Smew who attended Sunday's session along with Rebecca Dillon (pictured above left on international duty in Norway earlier this year) and Richard Kiely, who are both reigning national champions.
And it will also act as a big incentive, too, for the likes of Kieran Lee and John Mongan, who are making rapid strides through the Black Panther ranks.
We would like to thank Jimmy for giving his time for this interview.