We need to take head-and-shoulders snaps of all our active kickboxers, as well as other club members, too.
Obviously that means we require your help and co-operation!
We have lots of snaps of some of our fighters, especially Rebecca Dillon and Richard Kiely, so this, needless to say, doesn't apply to them.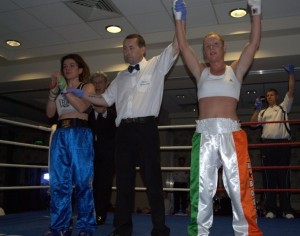 But there are lots of up-and-coming fighters at the club for whom we don't have any photos at all.
For example, we don't have any head-and-shoulders shots of Keith Burns, Kevin Carey and Abdulla Smew.
We need to rectify that ASAP so we have a photo of you to go with any story your name may appear in connection with in the future on blackpanther.ie, or to go with any pre-fight promotional material, for instance.
And don't forget, it will not only help promote the club, it will help promote you also.
Niamh Greene is our chief photographer and she has kindly agreed to take her camera along with her to training this coming Monday night (5 July).
You don't have to be an active fighter; even if you're only interested in the keep-fit aspect of being involved with the club, we would still like a photo of you.
So make yourself available to Niamh on Monday.
Thanks for your help in relation to this matter, but make sure you're at training on Monday.
After all, it's in your own interests, too.