Rebecca Dillon says "it's great" to be back training in Tallaght with her Black Panther club mates after her gold medal winning exploits in Rimini last month.
Rebecca struck gold at the WAKO World Cup on Sunday, June 6 after three days of intense competition in the women's full-contact -52kg division.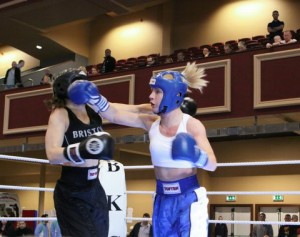 She beat highly-rated Norwegian Marielle Hansen on a split decision in an absorbing final.
After a fortnight off and a homecoming party for herself and fellow Black Panther kickboxer Richard Kiely, it is back to the hard grind again for Rebecca as she knuckles down to the tasks ahead.
She told blackpanther.ie: "It's great to be back training. I've had a few weeks off, the batteries are recharged and I'm ready to go again."
And she added: "It's good to see everybody as well."
Rebecca also wanted to thank Denis Mahon, who organised the homecoming party for herself and Richard.
She added: "We had a night out for myself and Richie which went really well, and I'd like to thank everyone who was there, especially Denis [Mahon, Black Panther club member] for organising it."