More people have joined Philip Kavanagh's weight-loss program, according to Niamh Greene, the program co-ordinator.
Niamh told blackpanther.ie: "A few more people have come on board, which is encouraging. Two more women joined up – one last week and another one at training last night (Monday, 12 July), which is great.
"One of the women has joined the club specifically for the weight-loss aspect, which means she's just training on a Wednesday."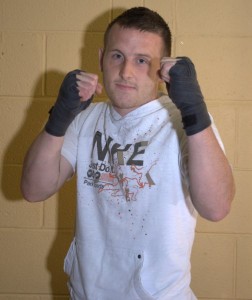 Niamh's brother David, who's one of the club's up-and-coming fighters, is also on the weight-loss program, as is Niamh's fiancé, Jonathan Glacken.
Apparently, though, the women are finding it easier going than the men!
Niamh explained: "Overall, it's going quite well, but the women are getting to grips with the diet better than the men – that appears to be the case anyway, certainly based on the feedback I'm receiving.
"The lads are finding it a bit challenging but they also admit that they need to apply themselves to it in a bit more of a disciplined fashion, too.
"The good thing is people are becoming more pro-active about it, which is great from my perspective.
"Everyone's really enjoying it – apart from the two lads!" laughed Niamh.
Niamh's brother David, who fights at 75kg and has a keen interest in horses, is pictured above.
David's fighter profile has just been updated.