Denis Mahon continues to make good progress after coming a cropper at his first sparring session last week (Monday, 5 July).
Unfortunately for Denis, he fractured a rib and sustained lung-related damage also – but he assures us he is improving with every day.
And provided he gets the go-ahead from Black Panther chief instructor Norman Kelly, Denis hopes to return to some light training at the club's gym in Tallaght on Monday of next week (19 July).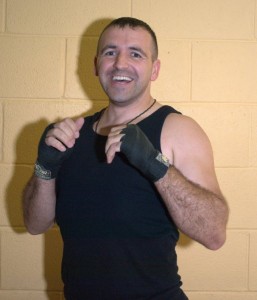 Denis' biggest problem right now is the drowsiness he is experiencing from the medication he is on as he continues his rehabilitation from his injuries.
He told blackpanther.ie: "The tablets I'm on are really knocking me for six – they make me feel really tired. But, fingers crossed and with Norman's permission, I will return to the gym on Monday.
"That is the aim right now but if I do get the okay from Norman, I will be taking it very handy. I'd say I'll be alright to go back on Monday. But I'll just do the workout and the fitness related stuff, nothing else."
It'll be around mid-August before Denis can even think about sparring again.
He said: "Sparring is strictly off limits for me for the next few weeks. I've been warned by the doctor that under no circumstances am I to go back sparring any time soon. If I do I will only do more damage to myself and end up worse off than I am now. And I don't want that."
If you're around next Monday, make sure you give Denis a big welcome back – he deserves it after what he's been through.
Incidentally, we've updated Denis' details in the fighters' gallery if you'd like to find out more about him.