Lindsey Doyle will represent Ireland at -56kg at the WAKO European Championships in Greece from November 22-28.
Lindsey, from Global Kickboxing, Ballybrack, spars occasionally with Rebecca Dillon, who is the reigning Irish champion at that weight, at the Black Panther gym in Tallaght.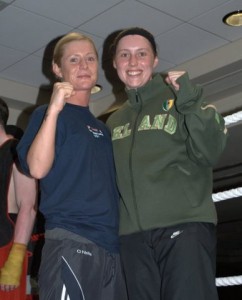 Rebecca (pictured on the left with Lindsey) had hoped to compete at -52kg, the weight at which she won her gold medal at the WAKO World Cup in Rimini in June, but won't be going to Greece now.
Lindsey is part of the nine-member AKAI Irish team that also includes our own Richie Kiely, who will once more compete at -86kg in November.
Like Rebecca and Lindsey, Richie was also in action at the WAKO World Cup in Rimini last month, but he failed to progress beyond the first round after picking up a groin injury.
The full Irish team is – Men: Niall McDermott (-67kg), Toby Bermuller (-81kg), Richie Kiely (-86kg), John Mullally (+91kg), Cormac O'Connor (-91kg). Women: Lindsey Doyle (-56kg), Trish Roddy (-65kg), Leanne McAree Murphy (+70kg).
Hopefully the team will have a successful time in Greece, especially Richie.