Richie Kiely has expressed his "delight" at been selected to represent Ireland at WAKO's European Championships in Greece in November.
And, if he can stay injury free, he is convinced people will see the real Richie Kiely after a groin injury saw his chances go up in smoke at the WAKO World Cup in Rimini in June.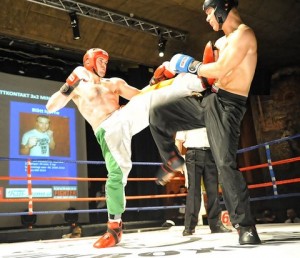 Richie will again be competing in the -86kg category in Greece, just as he did in Rimini, as part of the nine-strong AKAI Irish full-contact team.
And he told blackpanther.ie: "I'm delighted to be going to Greece with the national team in November for the WAKO European Championships. I know Norman [Kelly, chief instructor Black Panther Kickboxing Club] has a specific training regime for me and I've every confidence with his expertise that I'm going to peak in November."
And he added: "The real work starts here and I'm going to give it 100 per cent. And I feel if i can stay injury free, I can really make an impact."
Richie lost to Fedor Luchinkin in Rimini last month, the Russian getting the unanimous decision of the three judges.
Despite the handicap of his groin injury, Richie finished the final 30 seconds of the reduced 2×2-minute round contest in impressive fashion.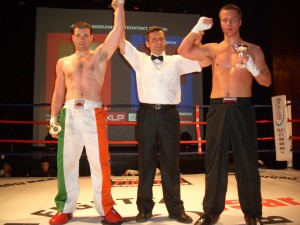 Unfortunately, it proved to be a case of too little too late for Richie, who is keen to made amends in Greece, although he is under no illusions about the size of the task he faces in four months' time.
He said: "The 86kg category is a very strong section, but I'm fast and powerful for an 86kg fighter, and I know Norman has the skills to maximise that and provide me with the technique to adapt to any fighting style.
"It's going to be extremely tough, but I'm definitely going over there to try and win it."
Everyone at Black Panther wishes Richie, who put in a hard training session at the club's Tallaght gym on Wednesday (14 July), the very best in his preparations for Greece.
Richie's pictures are courtesy of www.kampsportforalle.no