Chris Boyne, who trains occasionally at the Black Panther gym in Tallaght, returns to the ring a week on Saturday (24 July).
Chris, who is a member of the Wild Geese Martial Arts club run by Ronan MacSweeney, is up against Michael John Devlin as part of the Wicklow Fight Night bill.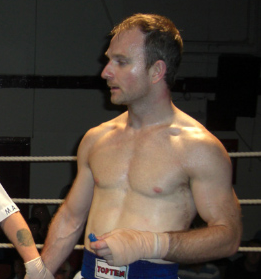 Chris, who's 35 this year and has been kickboxing almost six years now, told blackpanther.ie: "I am in the last week of hard training – at this stage I am doing a good bit of cardio, pads and sparring, and I hope to do a bit more sparring at the Black Panther gym before the fight."
Chris is hoping for better luck this time, as he felt he was unlucky to lose a split decision at Filippo Fusco's 'Magnificent Seven' Ireland versus Italy international at the Green Isle hotel on Sunday, 23 May.
Chris explained: "I really felt I had won – and so did everyone else in the crowd, so I was pretty disappointed, as you can imagine."
Chris really enjoys the odd training session he has at the Black Panther gym and is full of praise for everyone involved with the club, especially chief instructor Norman Kelly, as he finds it such a welcoming place.
He added: "I love the Black Panther club and I have to say the training is excellent. But, for me, the best part is the people in the club – they are all very friendly and will always help you.
"Before my last fight I was sparring Richie [Kiely] a lot, Patryk [Gapik] and Ciaran [Burns]. They really helped me with my sparring.
"The Black Panther club is like a big family, to be honest. The facilities are brilliant and having a ring is excellent, it's a real plus for any kickboxer."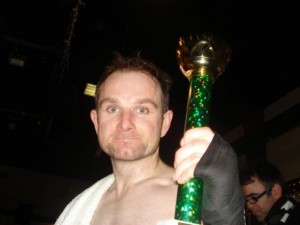 And he remarked: "Norman [Kelly] is one great trainer, the way he takes you on and really works you, and taps into your strengths. The big thing I noticed is that Norman is so dedicated and really cares for his fighters and his students. He pushes you, but it's all worthwhile."
Referring to his own club, Wild Geese Martial Arts, where he trains three times a week, Chris said: "It is run by Ronan MacSweeney. Ronan is a very good trainer and an exceptional fighter; he is an Irish and a world champion."
Chris's main aim is to land a title at some time in the future – perhaps even represent his country in international competition.
He said: "Unfortunately I have no titles, but I hope to go for a title sometime next year, possibly. I really enjoy kickboxing and I am very dedicated to it, and I train very hard, too.
"My ambition is to get on the Irish team next year and fight for a title. I'm not sure if this will happen, but at least I will keep trying."
Everyone at Black Panther wishes Chris the very best of luck in Wicklow in eight days' time.
In the meantime, we'll keep you posted on how his pre-fight preparations are going here on blackpanther.ie.