We have nine new photos of our Black Panther kids which will be loaded on to the site later today (Saturday, 17 July).
So watch out for Aaron Byrne, Matthew Clarke, Evan Cheevers Dillon (Evita Cheevers' son), sisters Courtney and Nikita Finnegan, Mark McSherry, James Posse Oliver, and brothers Edward and Michael Reilly.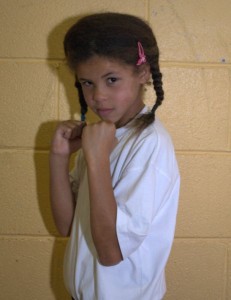 Thanks to all their parents for helping round them up for us at the Black Panther gym last night (Friday, 16 July)! We really appreciate your help.
And thanks, too, as always, to our chief photographer Niamh Greene, who devotes so much of her spare time to this website and plays a key role in making blackpanther.ie the huge success story that it has become today.
As sisters Courtney and Nikita Finnegan are the only girls among the nine Black Panther kids who had their photos taken by Niamh last night, we thought it only right that they should be the first two pictures up on the site.
So, who's who?
Well, pictured to the left is Courtney, who's the older of the two sisters, and pictured below right is her younger sibling Nikita.
And, from what we're told, they're two very talented kickboxers into the bargain.
They're also Mick Finnegan's nieces. Mick, as we're sure you all know, trains the kids at the Black Panther gym every week.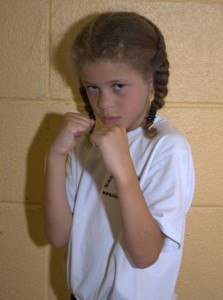 So well done Courtney and Nikita – keep up all the good work.
Just to remind you, there is Martial Arts training with Pat Harding today (Saturday, 17 July) at the gym for anyone who's interested.
Pat's class starts at 3pm and runs through to 4.30pm.
There is also a Martial Arts class tomorrow (Sunday, 18 July) with the earlier start time of 10am through to 12.30pm.
Don't forget, keep visiting blackpanther.ie – we welcome your support.
Our aim is to make blackpanther.ie the pre-eminent site, your site of choice, for all the best in kickboxing news in this country.
Based on the superb response we have received so far, we would imagine we are well on our way to achieving that aim already.