Finally, at last we've got around to adding the final two photos of the nine in total that were taken by our chief photographer Niamh Greene at training in Tallaght last night (Friday, 16 July).
Phew, Niamh, where did you find the time?!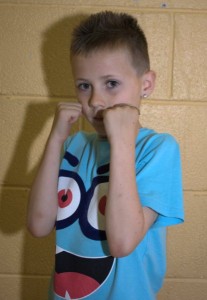 The last two of our nine younger Black Panther fighters – last, but not least – are Mark McSherry and James Posse Oliver.
Mark is pictured to the left and James is pictured to the right.
Thanks lads for all your patience, but somebody had to be last!
So, that's the list complete and, once more, a big thank you to Aaron Byrne, Matthew Clarke, Evan Cheevers Dillon, Courtney and Nikita Finnegan, Edward and Michael Reilly, and Mark and James, too.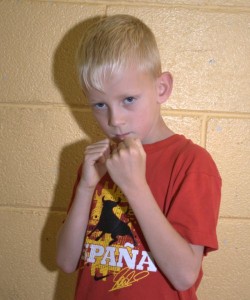 But there's no time to rest on your laurels, as you're all expected to be back at training on Monday (19 July)!
Just a reminder that the kids train twice a week – on a Monday and a Friday, starting each night at 7pm under the watchful eye of kids' instructor Mick Finnegan.
Classes last an hour, finishing at 8pm more or less.
Cheers everybody. Thank you all again so much for all your time and support and, remember, keep on visiting blackpanther.ie, the best website in Ireland for anything to do with kickboxing.
The numbers of people and the numbers of hits we are receiving keeps reaching record proportions, and it's all down to you.