All nine photos taken of the Black Panther juniors at training on Friday (16 July) have now been added to the fighters' gallery in addition to the stories that were loaded on to the 'news' section yesterday (Saturday, 17 July).
So, if you go to the fighters' gallery, you will be able to see the snaps of Aaron Byrne, Matthew Clarke, Evan Cheevers Dillon, sisters Courtney and Nikita Finnegan, Mark McSherry, James Posse Oliver, and brothers Edward and Michael Reilly.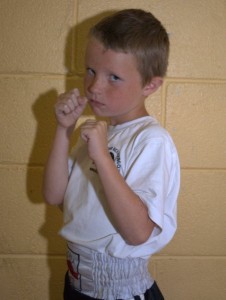 Again, a big thank you to our chief photographer Niamh Greene, who took all of the pictures – Black Panther are extremely grateful to her.
And a thank you is also due to Pat Ennis, who took the kids' class on Friday in the absence of Mick Finnegan.
Mick, though, will be back in charge tomorrow (Monday, 19 July), while Pat Harding will also be at the Black Panther gym in Brookfield for the Martial Arts class, which begins at 7pm and runs through to 9.30pm.
In the meantime, keep coming back for more breaking stories.
Pictured to the left is Evan Cheevers Dillon, one of the nine juniors who had their photos taken on Friday.
Evan is Evita Cheevers son.