Thomas Bateman was back calling the shots at the Black Panther gym in Brookfield last night (Monday, 19 July).
As the senior instructor, Tommo (pictured below on the extreme right) takes the adult classes on Mondays, Wednesdays and Fridays, but work commitments had kept him away recently – until last night when he got back into the training groove again.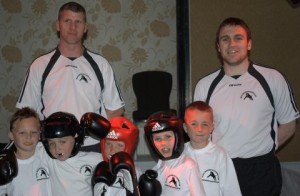 Norman Kelly, Black Panther chief instructor, said: "It was great to see Tommo back – he was missed while he was away. He always puts you through your paces and really makes you sweat – that's guaranteed."
The gym was packed last night for Tommo's return and Norman added: "There was some turn out. The place was absolutely packed and it was great to see.
"It's July and ordinarily you might expect a bit of a lull at this time of the year, but not last night. I think the website is really helping to spread the word about the club and our instructors are really popular, too."
"It's one big team effort at the Black Panther club – that's for sure."
 There's always somebody ready and willing to step into the breach if someone else is unavailable.
Mick Finnegan (pictured above left) took the adult classes in Tommo's absence and when Mick was missing last Friday (16 July), Pat Ennis put the kids through their paces.
Norman said: "It's all about team work and helping each other out. You always hear people say how welcoming everybody was when they first stepped through the doors of the club, and it's true."
If you weren't at training last night, make sure you're there tomorrow (Wednesday, 21 July) from 8-10pm.
Welcome back Tommo!